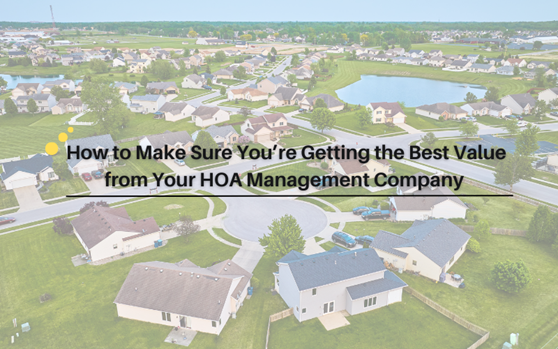 An HOA management company shoulders major responsibilities when caring for your community. As an HOA board member, you want assurance the management team merits every penny of the fees collected. 
Follow these tips to evaluate whether your HOA management provider delivers robust service and attention that aligns with the compensation:
Review the Contract Regularly
Your management contract outlines the services, responsiveness, reporting, and fees you can expect for your community. Re-examine this agreement annually to ensure you're receiving everything stipulated. Renegotiate if discrepancies exist between the stated terms and actual delivery of services.
Assess Responsiveness
Responsiveness goes beyond just being available for emergencies 24/7. Assess whether:
– Emails/calls get returned within 24 hours or sooner 
– Community managers follow through on requests in a timely manner
– Managers proactively notify the board of important updates  
Conscientious managers make themselves consistently accessible rather than only reacting when issues arise. 
Evaluate Staff Expertise and Professionalism
The capability of the personnel overseeing your property greatly impacts the value received. Consider:
– Relevant qualifications – licensing, certifications (CAM, AMS, PCAM)
– HOA-specific training and access to continuing education  
– General expertise level based on interactions  
– Professionalism and demeanor with residents 
Having a skilled, experienced team preserves and enhances your asset with proper maintenance and governance.
Review Reporting Frequency and Transparency
The right management partner readily shares data through:
– Periodic financial statements and budget variance reports  
– Maintenance logs tracking issues that arise
– Updates on rule violations, architectural changes, etc.  
– Prompt notification of emergencies or other developments
– Annual meetings reviewing the year and planning ahead
Managers who freely provide documentation offer valuable transparency. 
Assess Service Scope and Execution
Review the agreed upon scope of services and objectively evaluate how well each area gets handled:
– Maintenance – Are work orders, preventive maintenance, inspections, etc. performed consistently and urgently?
– Finance – Are statements accurate and provided on schedule? Are assessments collected successfully?
– Governance Support – Does manager enforce bylaws evenly? Do they provide guidance on amendments, disputes, etc.?
– Vendor Oversight – Are contractors properly vetted and managed?
– Resident Services – Does staff address complaints promptly? Are amenities well-maintained?
Identify any weak spots where additional oversight could strengthen performance.
Evaluate the Strength of Community Relationships 
Engaged managers focused on community building provide great additional value through:
– Organizing resident events – clean-ups, picnics, holiday celebrations
– Facilitating communication via newsletters, websites, social media pages  
– Encouraging community input through surveys, committees, etc.
– Promoting compliance through diplomacy and trust building
This fosters goodwill, cooperation, and a sense of pride among homeowners.
Benchmark Fees Against the Market
While cost shouldn't be the only consideration, ensure your fees stay reasonably aligned with current market rates by:
– Comparing proposed increases against inflation  
– Surveying neighboring HOAs on fee structures
– Securing competitive bids to leverage during contract negotiations
– Considering amenity levels and service differences when comparing rates
Paying above-average fees may be acceptable for superior service. But overpaying erodes value.
Measure Resident Satisfaction 
Gauge whether residents share the board's perspective by: 
– Informally engaging homeowners at meetings and community events
– Distributing annual satisfaction surveys to capture anonymous feedback
Consistently high marks indicate homeowners agree management delivers substantial value. Low scores warrant investigation into potential gaps.
Run an RFP Process Periodically 
Undergoing a full RFP process every 3-5 years can benchmark your current relationship against competitor offerings. You may discover opportunities to reduce costs, upgrade services, or identify a better-suited partner. Just be sure to give sufficient termination notice to your existing provider per contract terms. 
While not always resulting in a change, RFPs provide helpful perspective.
By regularly evaluating your management company across these dimensions, HOA boards can ensure their community receives top-notch service and value. Don't leave it to chance – be proactive assessing the performance of your property management provider. For professional HOA management that prioritizes open communication and providing maximum value, connect with the experts at Intempus.